Lazarus, Hand of Oblivion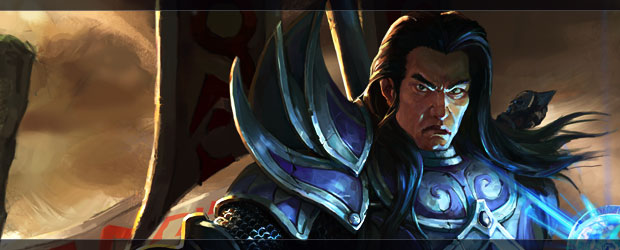 Immortal Profile
Name:

Lazarus, Hand of Oblivion
Class Role:

Vampiric tank
Attack Type:

Magical Damage
Ability Type:

Magical Damage
Offensive
Defensive
Difficulty
Statistics

Attack Damage:

58 (+2.50)

Attack Speed:

0.658 (+0.013)

Attack Range:

80

Move Speed:

120

Armor:

4 (+0.25)

Magic Resist:

6 (+0.15)

Max Health:

400 (+80.00)

Max Mana:

150 (+20.00)

Health Regen:

2 (+0.15)

Mana Regen:

0.7 (+0.09)
Oblivion Missile

(Q)

Mana Cost:

40/48/56/64/70

Radius:

N/A

Cooldown:

12/11.5/11/10.5/10

Cast Time:

0.25

Type:

Enemy Unit

Duration:

N/A

Range:

180
Description
Deals
(70/115/155/200/245)
(+0.8)
magic damage and slows movement speed by 35% for 2.5 seconds. Lazarus is healed for 75% the damage dealt.
Inner Strength

(W)

Mana Cost:

40/55/70/85/100

Radius:

200

Health Cost:

70/90/110/130/150

Casting Time:

Instant

Cooldown:

15

Duration:

8 Seconds
Description
Increases the attack damage of nearby allies by
(8/14/20/26/32)
(+0.25)
and changes Lazarus' attacks into cleaving strikes. Lasts 8 seconds.
Fate of Darkness

(E)

Mana Cost:

60/70/80/90/100

Type:

Enemy Units

Health Cost:

30/50/70/90/110

Range:

150 Source AoE

Cooldown:

20/17/14/11/8

Casting Time:

0.4 Seconds
Description
Applies Fate of Darkness to nearby enemies, dealing
(20/28/36/44/52)
(+0.9)
magic damage per second. Lazarus is healed for 50% of the damage dealt if the target is another immortal, and 10% if the target is a creep.
Elder Blood

(R)

Mana Cost:

50/68/86/104/122

Type:

Self

Health Cost:

100

Range:

300

Cooldown:

140/135/130/125/120

Casting Time:

Instant
Description
Cleanses Lazarus. Taunts nearby enemy units and towers while making Lazarus invulnerable to damage for
(4/4.5/5.0/5.5/6.0)
seconds.
Oblivion Shift

(D)

Signature

Type:

Enemy Units

Radius:

75(+15/level)

Range:

Global

Casting Time:

0.5 Seconds
Description
Lazarus rapidly surges toward a targeted location, dealing 200
(+40 per tactical level)
the distance traveled as magic damage to all enemies in the area of effect, blocking all healing effects on them (including native regen, potions, and lifesteal effects), and silencing them for 1.5 seconds. Enemies within melee range of Lazarus when he comes to a stop take an additional 50
(+10 per tactical level)
magical damage.
Ad blocker interference detected!
Wikia is a free-to-use site that makes money from advertising. We have a modified experience for viewers using ad blockers

Wikia is not accessible if you've made further modifications. Remove the custom ad blocker rule(s) and the page will load as expected.