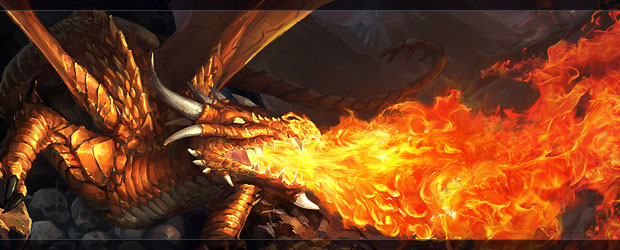 Immortal Profile
Name:

Trovoc, The Last Dragon
Class Role:

Area Denial
Attack Type:

Physical Damage
Ability Type:

Physical Damage
Offensive
Defensive
Difficulty
Statistics

Attack Damage:

60 (+2.50)

Attack Speed:

0.649 (+0.017)

Attack Range:

60

Move Speed:

115

Armor:

5.5 (+0.25)

Magic Resist:

6 (+0.15)

Max Health:

460 (+82.00)

Max Mana:

N/A

Health Regen:

1.5 (+0.12)

Mana Regen:

N/A
Wing Gust

(Q)

No Cost:

Radius:

60 degree arc

Cooldown:

25

Cast Time:

0.4

Type:

Enemy Units

Duration:

N/A

Range:

300 (Cone)
Description
Trovoc leaps into the air and generates a large gust of wind by flapping his powerful wings. All units in front of Trovoc are pushed back in the direction of the gust and take (40/80/130/190/260) physical damage.
Crippling Fire

(W)

No Cost:

Radius:

60 degree arc

Cooldown:

27/24/21/18/15

Cast Time:

0.4

Type:

Enemy Units

Duration:

Range:

250 (cone)
Description
Trovoc breathes a cone of crippling fire in front of him, burning enemies for (20/30/50/75/105) physical damage per half second as long as they remain in the area. In addition, the fire reduces their armor by (1/2/3/4/5,) stacking up to five times. Lasts 3 seconds.(Deals 75% damage to non-immortals)
Baneful Bite

(E)

No Cost:

Radius:

N/A

Cooldown:

18/17/16/15/14

Cast Time:

0.4

Type:

Single Target

Duration:

2.5

Range:

Melee
Description
Trovoc inflicts a deep baneful bite dealing (70/130/205/275/355) physical damage and silencing the target for 2.5 seconds.
Dragon Totem

(R)

No Cost:

Radius:

150

Cooldown:

130/127/124/121/118

Cast Time:

0.35

Type:

Enemy Units

Duration:

4/5/6/7/8

Range:

300
Description
Trovoc creates a dragon fear totem at the targeted location. Any enemy that approaches the totem will be pushed back and become Enfeebled which disables all auto-attacks for 2.5 seconds. The effect is reapplied each time they enter the area. The totem lasts (4/5/6/7/8) seconds.
Divine Intervention

(D)

Signature

Targeting Type:

Ground AoE

Casting Time:

0.5

Radius:

200
Description
Trovoc prepares three massive mortars which can then be fired by activating this ability again. Each mortar deals 75+(+20 per tactical level) True damage.