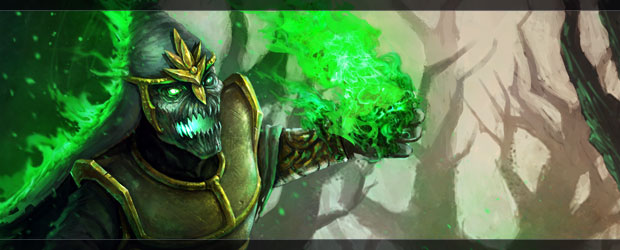 Immortal Profile
Name:

Vezin, Wraith of Graxia
Class Role:

AoE Caster Tank
Attack Type:

Magical Damage
Ability Type:

Magical Damage
Offensive
Defensive
Difficulty
Statistics

Attack Damage:

52 (+3.00)

Attack Speed:

0.526 (+0.008)

Attack Range:

175

Move Speed:

112

Armor:

4.2 (+0.20)

Magic Resist:

4 (+0.10)

Max Health:

395 (+83.00)

Max Mana:

280 (+42.00)

Health Regen:

0.8 (+0.16)

Mana Regen:

0.8 (+0.12)
Deathly Presence

(Q)

Mana Cost:

70/100/130/160/190

Radius:

110

Cooldown:

18

Cast Time:

0.4

Type:

Direct Targeted

Duration:

Range:

185
Description
Passive: Ally immortals gain (0.25/0.50/0.75/1.0/1.25) Mana regeneration. Active: Deals (80/130/180/235/300)(+0.85) magic damage and slows movement speeds by 15% for 3 seconds.
Unholy Spore

(W)

Mana Cost:

80/90/100/110/120

Radius:

N/A

Cooldown:

15

Cast Time:

Instant

Type:

Direct Targeted

Duration:

Range:

150
Description
Ally: A damage aura that deals (22/34/46/58/70)(+0.15) magic damage per second to nearby enemies and increases mana regeneration by (8/12/16/20/24) per second. Lasts 6 seconds. Enemy: Silences the enemy immortal for (1.6/1.7/1.8/1.9/2) seconds.
Vortex

(E)

Mana Cost:

100/115/130/145/160

Radius:

110

Cooldown:

25

Cast Time:

0.4

Type:

Ground Location

Duration:

N/A

Range:

175
Description
Summons a powerful vortex at a targeted location, pulling enemies toward the center and dealing (60/95/140/180/230)(+0.65) magic damage.
Arena of Death

(R)

Mana Cost:

Mana Cost: 250/290/330/370/410

Radius:

200

Cooldown:

120

Cast Time:

0.6

Type:

Instant Activation

Duration:

4

Range:

N/A
Description
Summons a circle of dark wraiths that deals (250/300/350/400/450)(+0.9) magic damage and stuns enemies who cross the arena's threshold for 2 seconds. Arena lasts 4 seconds.
Realm of Death

(D)

Signature

Key:

D

Range:

350

Cast Time:

1

Radius

200

Type:

Ground Teleport
Description
Lord Vezin teleports to the target location and forms a deadly pool that deals 37.5+(+7.5 per tactical level)(+0.35) magic damage per half second over 4 seconds. Vezin is immune to damage and disable effects but is silenced for the duration.
Ad blocker interference detected!
Wikia is a free-to-use site that makes money from advertising. We have a modified experience for viewers using ad blockers

Wikia is not accessible if you've made further modifications. Remove the custom ad blocker rule(s) and the page will load as expected.